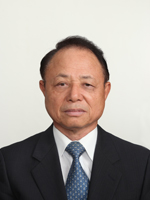 Recently, the world is changing very fast so diversification has developed increasingly.
Now we are in the high speed society.
One of the main reasons is IT Revolution rolls all over the world and it has progressed at a great speed.
The Japanese aging society is coming closer and this is unprecedented in the world.
Also, pollution and destruction of the global environment continues and has reached a crisis point.
It has become clear that if we don't take measures to improve the situation immediately, humanity will eventually perish.
In addition, problems of education and the recovery of our humanity are very important Issues.
I believe the 21st century will advance and develop while struggling with these problems.
Our company has dreams for the future and we'll do our best to suit this new age and develop merchandise to contribute to the future.
We are develop ideal products that will bring a little love and romanticism to the future, we plan to do this by building quality medical equipment, environmentally friendly products, and innovative products that take care of you.
We at Ltec are tackling challenges of the 21century and taking chances.